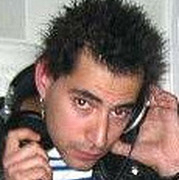 Mr. Alejandro Gehry received his BFA in Illustration at the Rhode Island School of Design. He worked on the design and installation of murals for Issey Miyake at the US Flagship in Manhattan. He worked directly with the design team in Tokyo, Japan as well as project architect to create murals. At the Arnell Group Worldwide in NYC in did illustrations and storyboards for various ad campaigns for Tommy Hilfiger, Progressive Auto Insurance and Playboy Enterprises. He did character development for multimedia use on web sites incorporating animation as well as concept drawing and model making for product and packing design.

Since moving back to his native Los Angeles in 2002, Gehry worked at
White Design/Sauce Design in Venice, California. There he did illustration and concept drawings. He served as artist assistant at Robert Graham Studios.
He taught at the Brentwood Art Center from 2004 until 2012. He has taught at LACHSA since 2005. He presently works as a painter and at Gehry Products in Los Angeles where he is designer and creative director. Gehry has had several exhibitions in Los Angeles.

Born in Santa Monica in 1976, Gehry currently lives and works in Venice.